Appetizers and canapés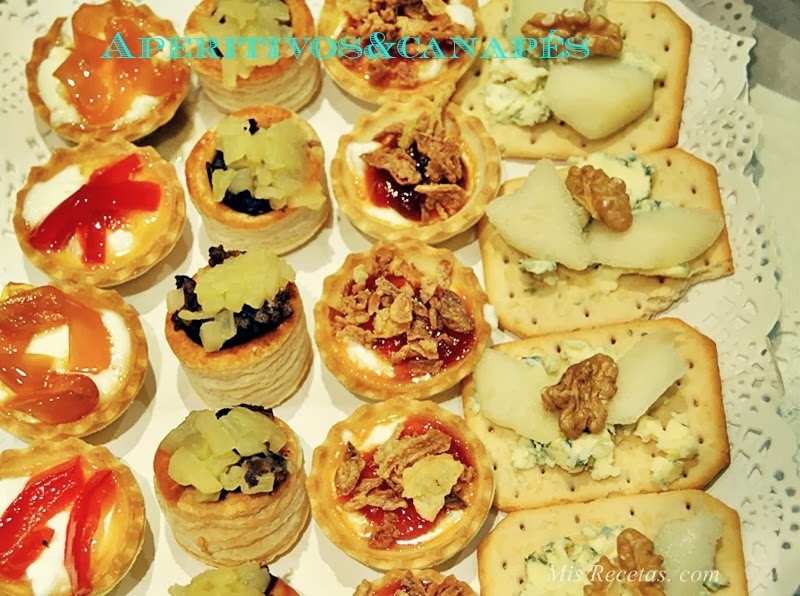 These are days of hard work in the kitchen, but also of satisfaction when you arrive at the table and see how you like what we have prepared for our families, right? Without any doubt it is worth the effort and dedication.
Well it was just when, already all sitting at the table, I realized that I had not made any photo of any recipe from the menu. The hands had already begun to go from tray to tray, when I ran out to get my camera. I arrived in time to take a couple of photos apart from the canapés and although the light was not adequate for the photos to look good, at least there is proof of how beautiful they were. The most important thing is that they liked it a lot. Although these days I had no plans to publish, I hope that this post will help you if on New Year's Eve or New Year you are thinking of preparing a starter and you have run out of ideas.
From here we wish that 2014 is a very positive year for all of us, that together we can get out of the crisis once and for all or at least that we envision a clear and clean horizon, where the illusions go back to be reborn. But above all I wish you the same thing that I wish for my family and for me: Health, Love and Work.
INGREDIENTS:
Red and yellow caramelized peppers
Tomato jam
Fried onion
Cream cheese
Blue cheese
Walnuts
One pear
An apple
Black pudding
Tartlets
volovanes
crackers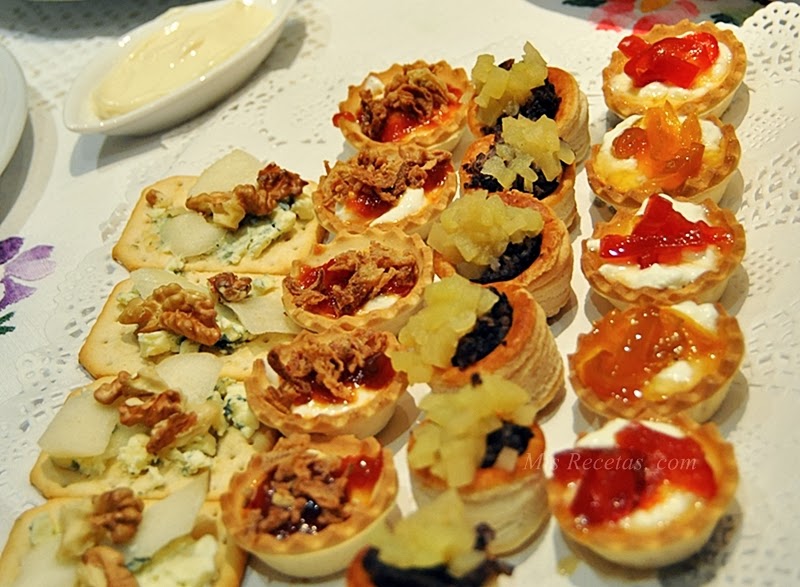 DEVELOPMENT:
Tartlets of cheese and candied peppers:

We make the candied peppers following the recipe that you can see HERE
Mix the cream cheese with a little bit of the syrup of the peppers . It has to be with a consistency of ointment.
Fill the tartlets and decorate with some strips of sweet pepper on top.
On the tray where we are going to serve them we alternate both colors.
Black pudding and apple volovanes

Peel and chop the apple into very small squares. We put them in a bowl and cook for a minute in the microwave. (If you do not want to use the microwave, add a pinch of water and let simmer, until the apple is soft)
Remove the skin to the black pudding and fry it in a pan with a pinch of oil. Let temper
Fill volovanes with blood sausage and top with apple chips.

If volovanes are bigger, we put a layer of apple first, then the blood sausage and finish with another layer of apple.
Tomato and fried onion marmalade tartlets

We make the tomato marmalade following the recipe you can find HERE
We fill the tartlets with creamy cheese, we cover with tomato jam and ended with a layer of fried onions.

Cracker with blue cheese, pear and nuts

Peel and cut the pear in slices
We spread the cracker cookies with a layer of blue cheese, over it we put pear slices and half walnut on them.

NOTES:

Both the tartlets and the Volovanes are commercial, but you can make them very easily with crust pastry and puff pastry.
Fried onion is also commercial.